This year I've decided to make as many presents as I can. And so far I've done pretty well. I really think we've only bought a couple things for our daughter that would otherwise be impossible to make (I am not about to record my own Disney princess CD…I don't think Mackenzie would enjoy my singing quite as much). Now when thinking of stocking stuffers for this year, I saw this tutorial for making felt makeup. And I knew I had to do it. Whenever I have my makeup drawer open my daughter begs me to put makeup on her. She is a girly girl through and through. So I made my own version. I made a few tweaks to the original tutorial.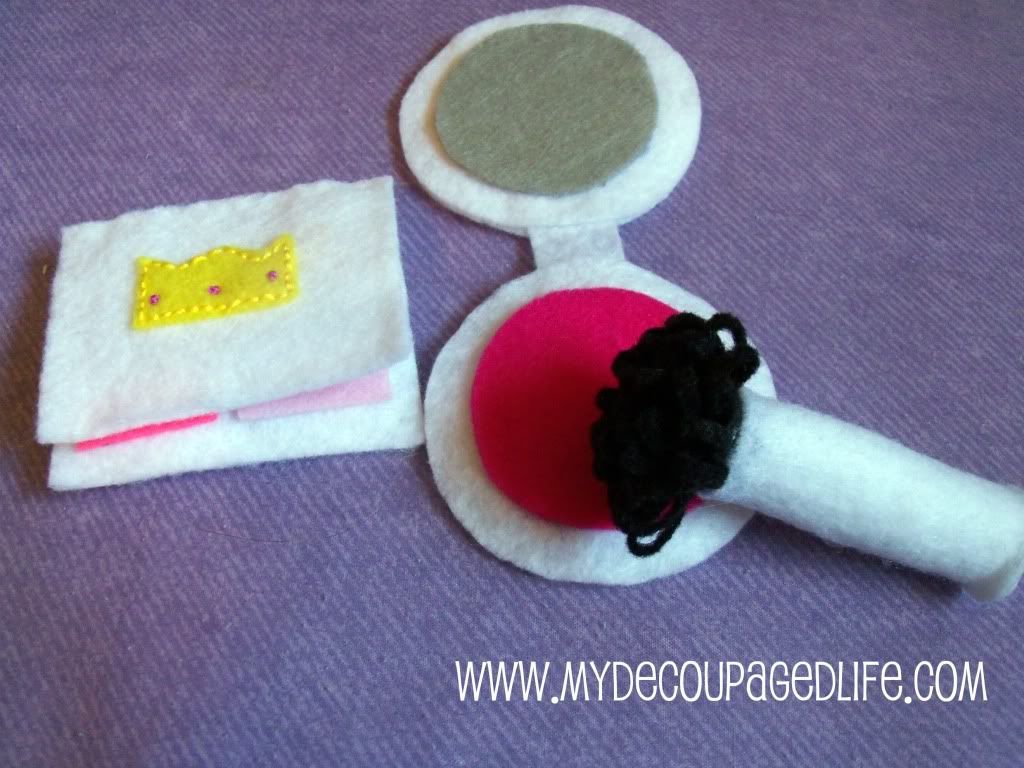 Supplies Needed:
Felt

White
Pink
Yellow
Blue
Gray
Purple
Pink sparkly
Black

Batting
Hot Glue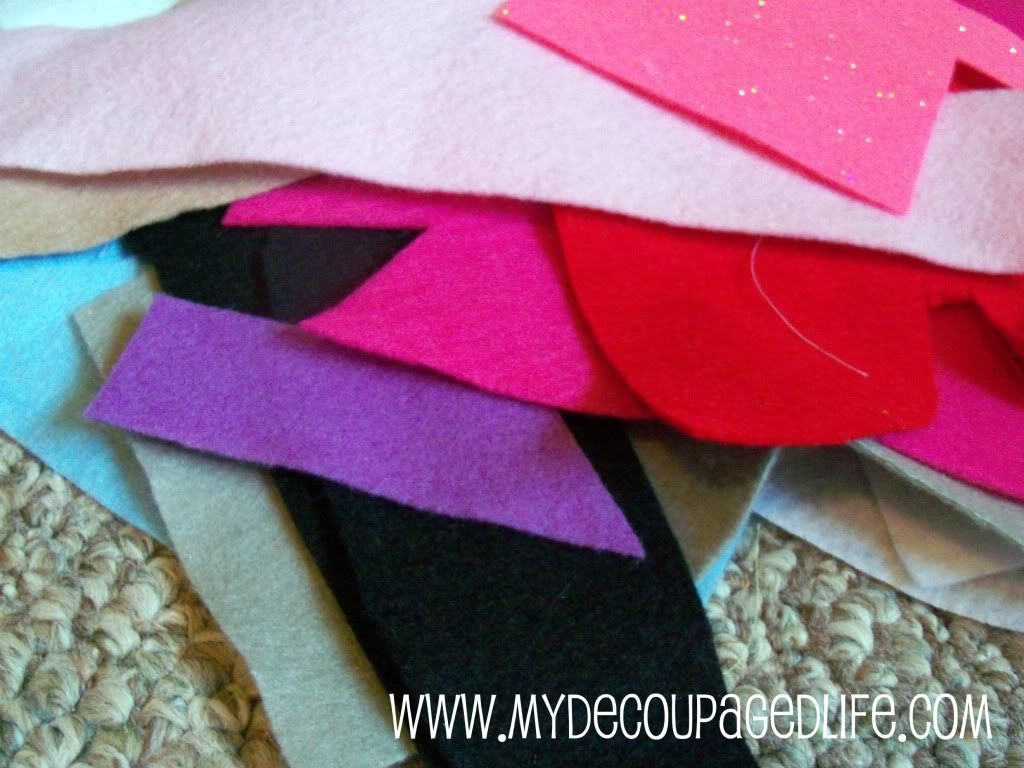 Step 1: Ok let's start with the blush brush. This actually turned out to be my favorite part! Cut a piece of black felt to be about 5" x 1 1/2". Fold in half lengthwise. Sew or glue the long ends together.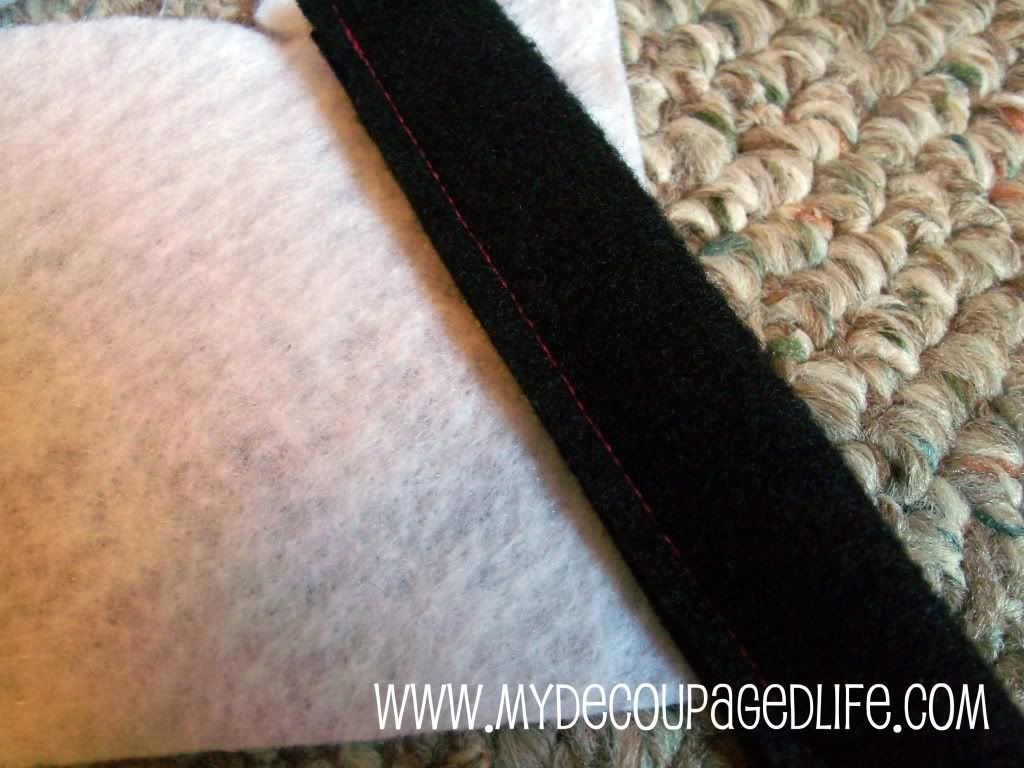 Step 2: On the folded side, Cut slits into the black going towards the seam you just created. Make the slits pretty thin. Refer to the picture, cause I'm pretty sure that didn't make any sense.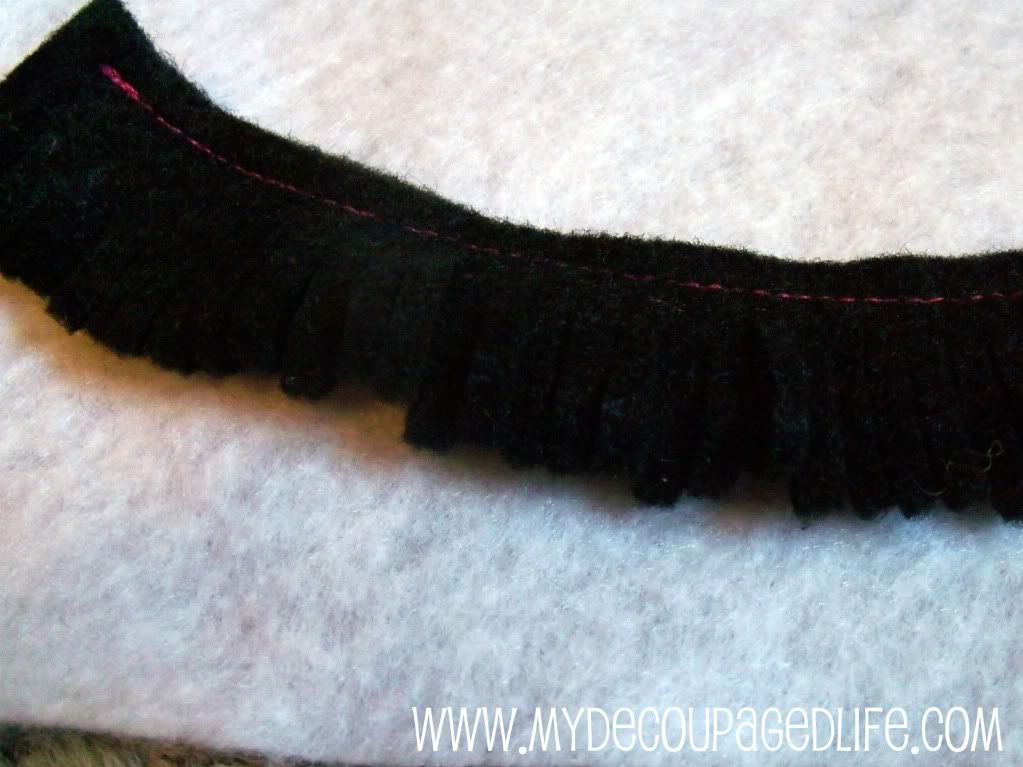 Step 3: Cut a piece of white felt 2 1/4" x 2 1/4". Roll the black piece up (similar to many felt flowers). Glue down the end so it stays in place. Glue the edge of the white around the base of the black "flower". Glue the side seam closed. You should now have a tube around the bottom of the black "flower".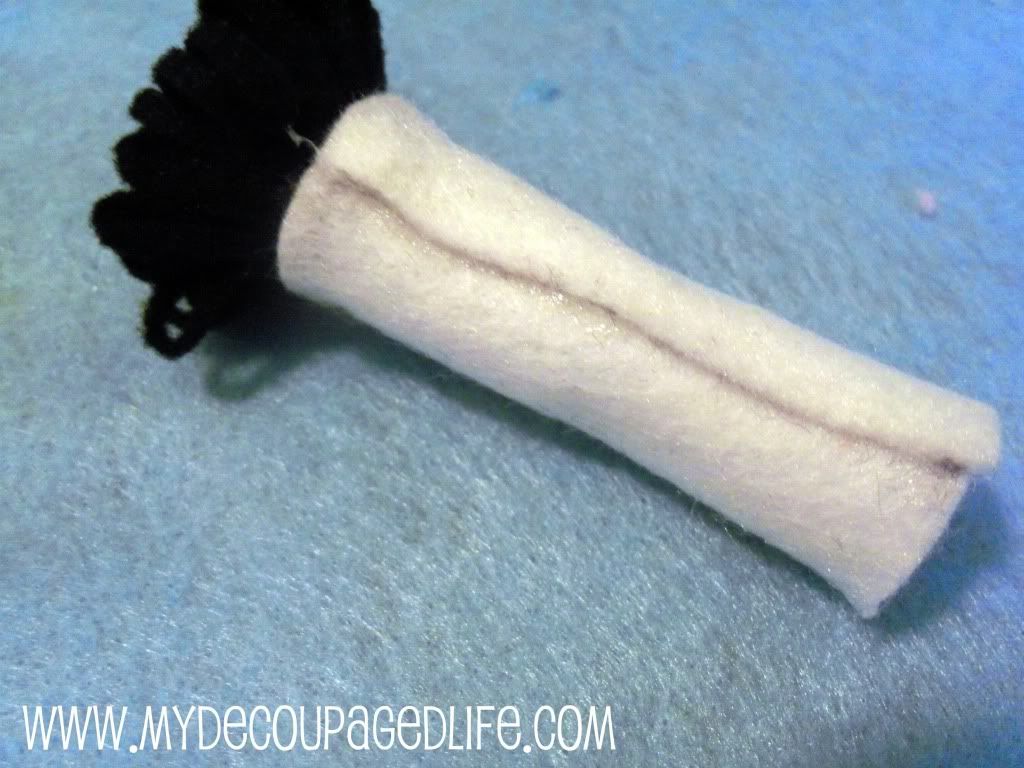 Step 4: Stuff the tube full of batting. You want this pretty stiff since this will be a blush brush. Cut a circle of white felt to fit the base of the tube and carefully glue it in place.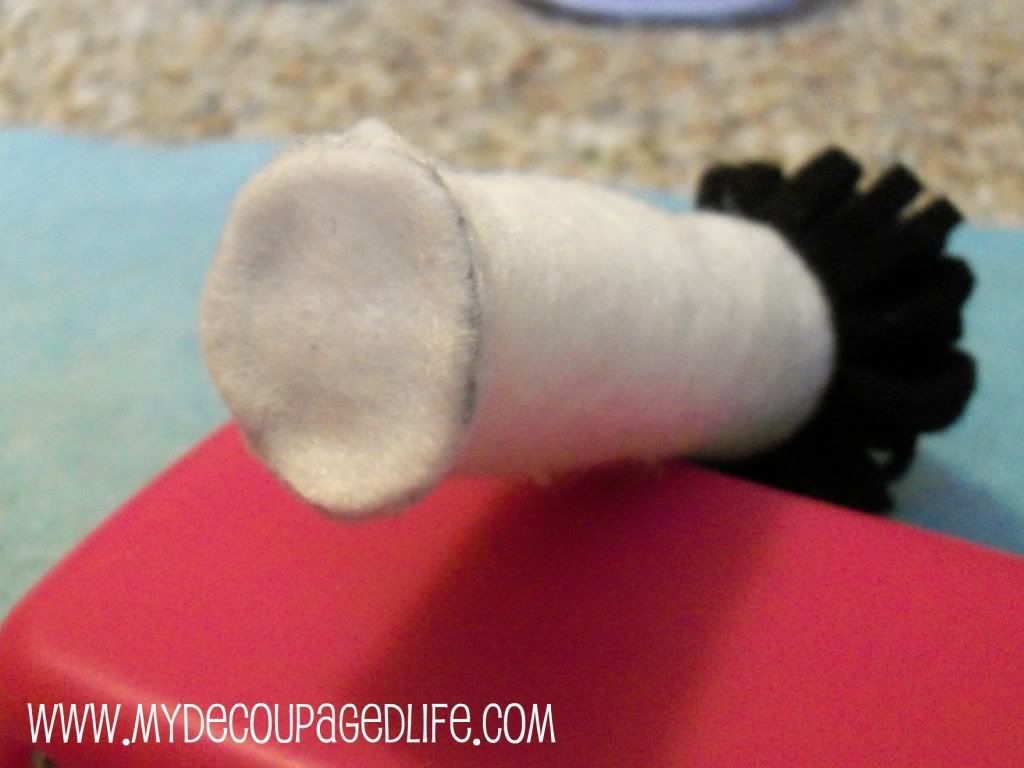 Step 5: Now onto the eye shadow. Cut four pieces of white to be 2 1/4" x 3".
Step 6: Choose four colors of eye shadow (mine are blue, pink, purple, and pink sparkles). Out of each color cut a rectangle that is about 1" x 3/4". Glue the rectangles down on one of the white eye shadow rectangles. Cut two small rectangles of white and glue them to the bottom side of the top of the white rectangle.
Step 7: Cut a rectangle of gray to be about 2 1/2" x 1 1/2". This will be your mirror. Glue it onto another white rectangle. Glue that white rectangle to the top of the two white strips on the previous rectangle, connecting the two.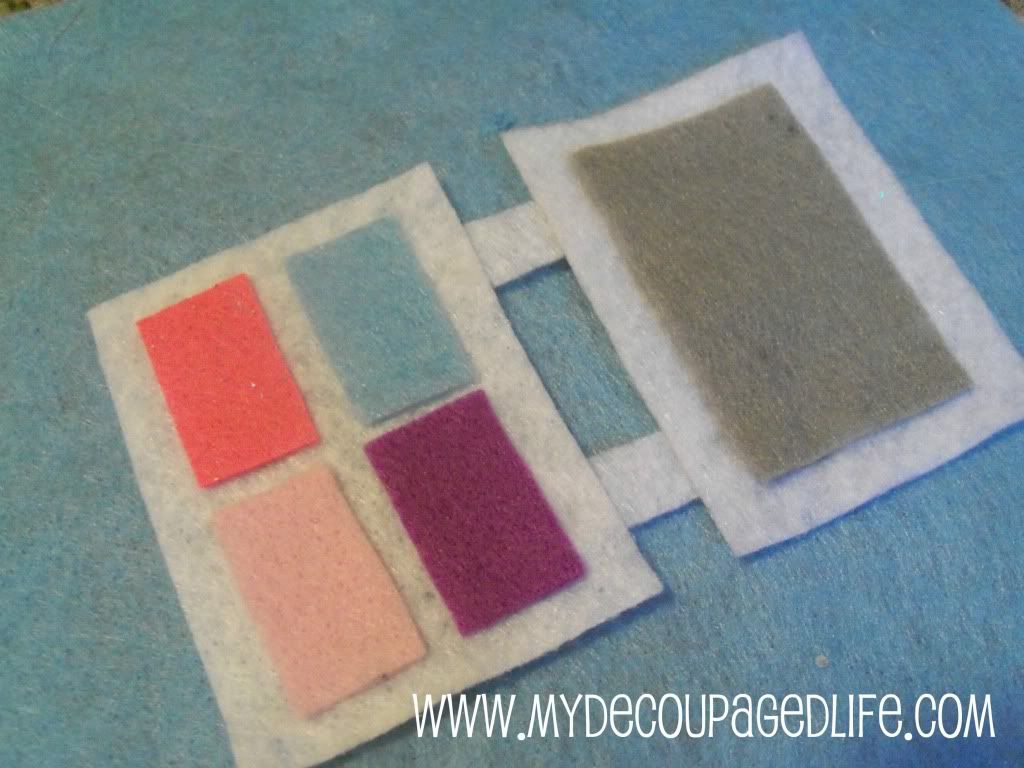 Step 8: Set the eye shadow aside and now we'll focus on the blush. I just found a cup or something to trace for a circle. You'll need 4 white circles.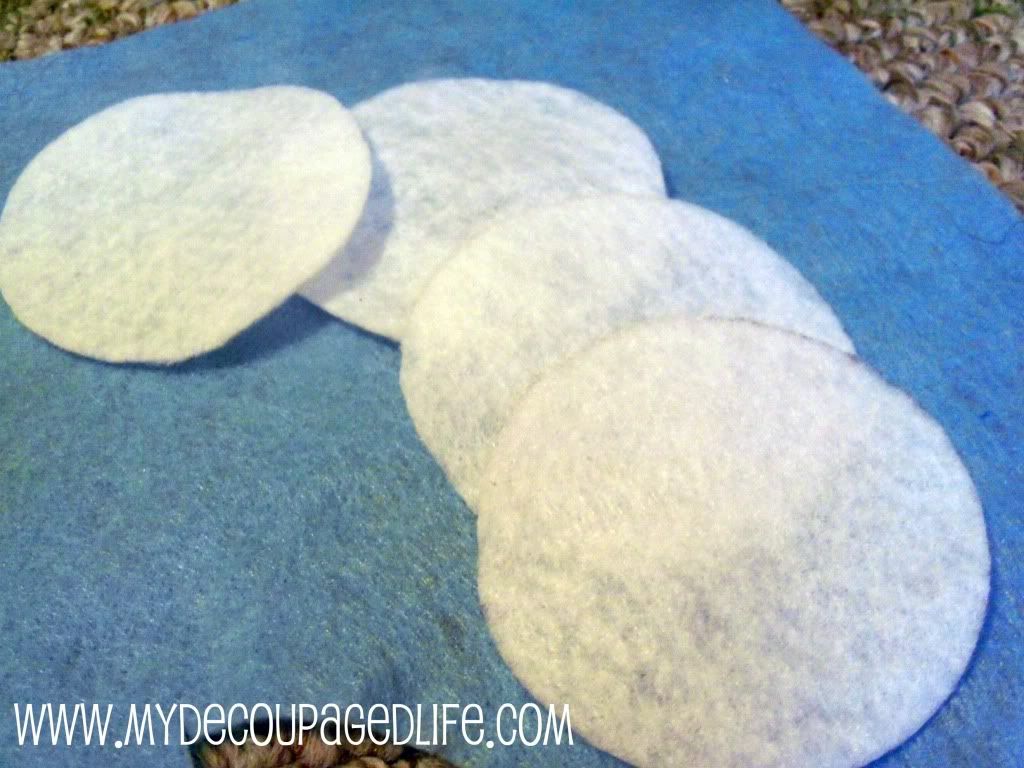 Step 9: Cut a smaller circle from the pink (I used a darker pink but I also have literally dozens of pieces of felt in my house…it's kind of an addiction). Cut another smaller circle from the gray. Glue these onto two of the white circles and connect the two with a strip of white similar to the eye shadow.
Step 10: Grab one white rectangle and one white circle. Decide what sort of design you want on the front of them. I chose to do a little crown with yellow and some embroidery floss since my daughter insists she's a princess.
Step 11: Glue the designed rectangle onto the back of the eye shadow mirror. Glue your remaining blank rectangle onto the back of the eye shadow. When it folds up it should look like a nice little eye shadow box!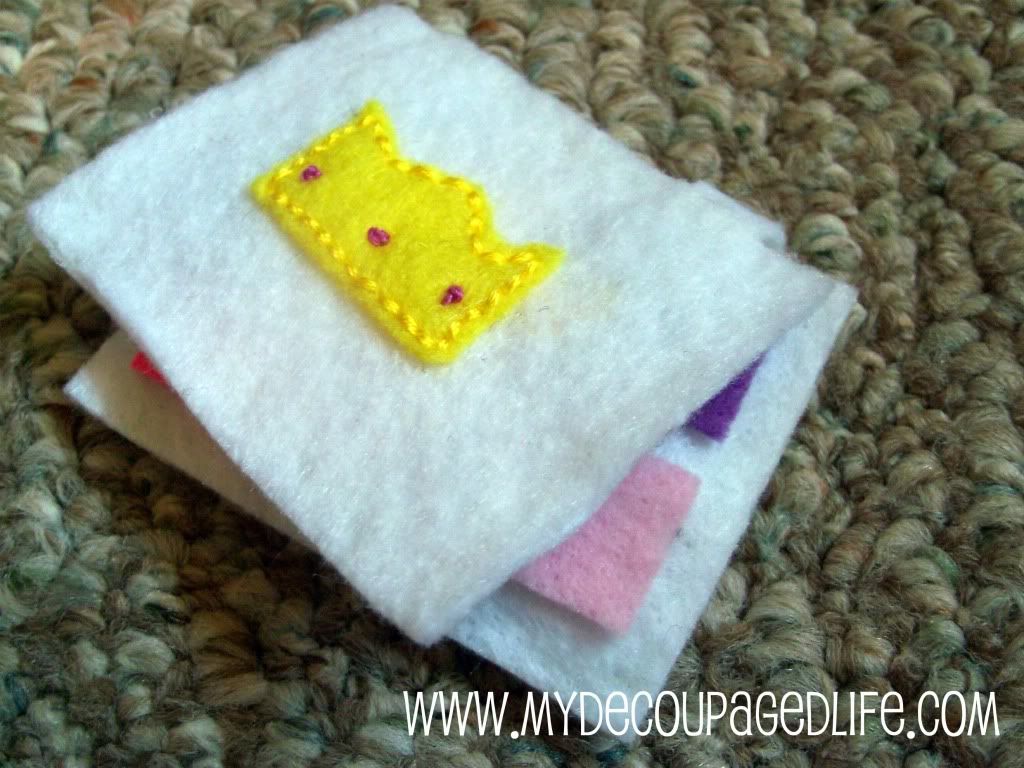 Step 12: Repeat the last step with the blush.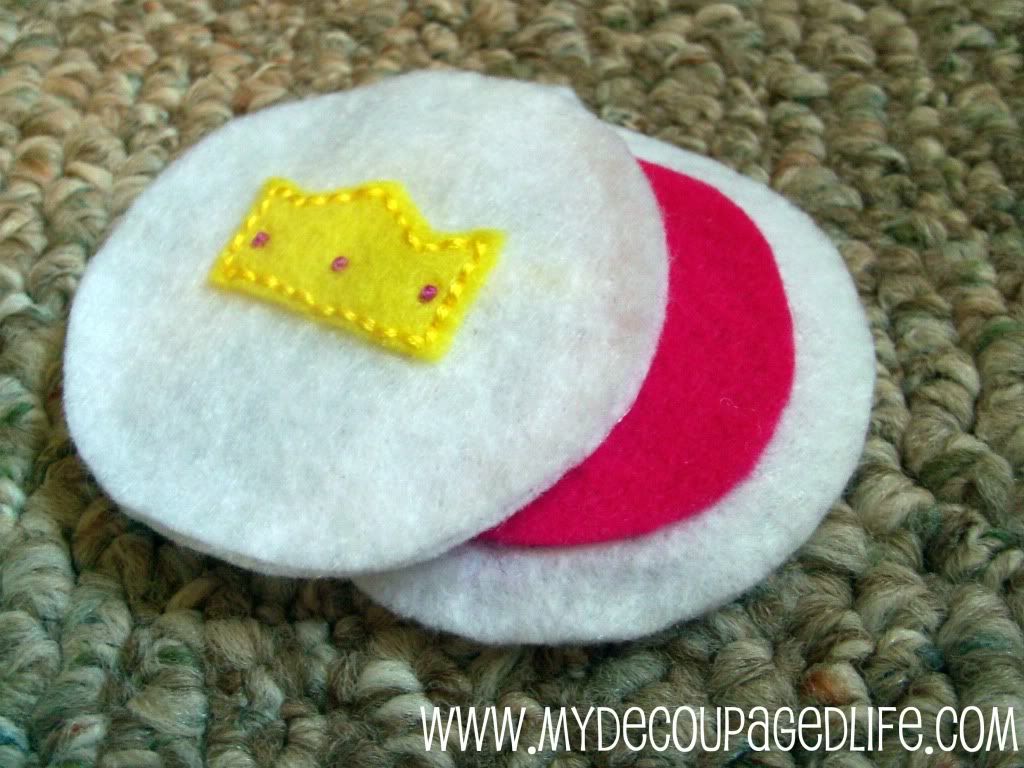 Step 13: Grab some chapstick and a cheap eye shadow applicator and you're ready to go! For my daughter's stocking I'm going to throw the pieces all into a little makeup bag she can carry around. She's going to be so excited to have her very own makeup!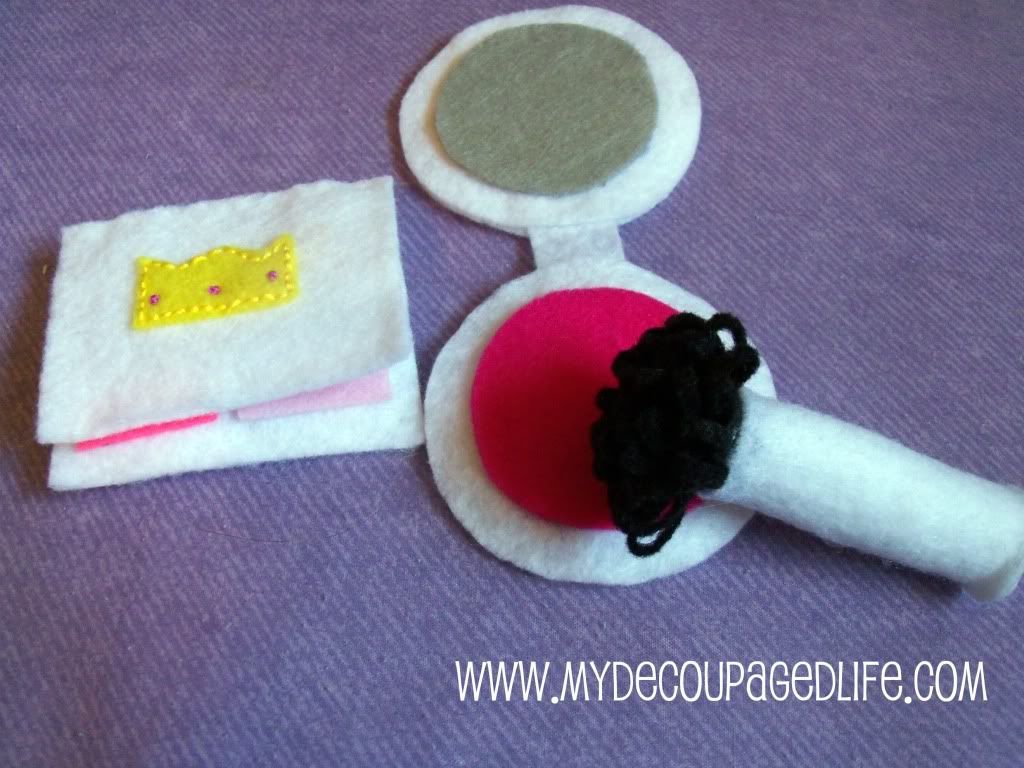 I'm linking up over here!