Welcome to the first Show Off Saturday! I'm so excited for this new series to show off all of you! If you are featured please feel free to grab a button:
With the new year comes new goals for everyone. As I'm reading through various blogs I'm realizing that a big goal for everyone this year is getting organized. I've even caught the bug a bit and feel like I need to organize my pantry, dressers, etc. Though that could just be me nesting. :) Luckily there are lots of ideas and tips out there for achieving that!
1. Jenn over at Peas and Crayons has some great tips and ideas for organizing your pantry. Plus it turned out so cute!
2. Over at Tatertots and Jello Jen has some fabulous ideas for organizing that awful space under the kitchen sink. Plus she has some free labels to help you in your organization!
3. Amanda at Every Creative Endeavor has some great organizing tips for keeping your home organized after you've done all the deep cleaning. Plus she has a bunch of other posts this week for keeping other parts of your life organized!
4. At The Brown Eyes Have It she's got a great printable to help you keep each day organized. I love making to-do lists so I love the idea of having one to wipe off each and every day!
5. Have you checked out I Heart Organizing? It's amazing! The entire blog is dedicated to helping you organize your life. Right now she has some really fabulous tips. You will definitely become a follower when you check it out!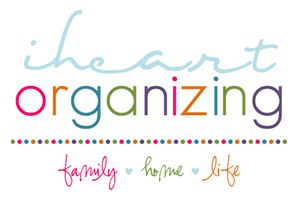 Do you have some organization tips and ideas for the new year? If you're written a post about organization make sure to put it in the comment section so we can all check it out!